Meditation Journal & Workbook
Regular price
Sale price
$29.00 USD
Unit price
per
Sale
Sold out
This unique meditation journal is part workbook, part diary and includes a guide for starting meditation, detailed instructions of 3 meditation techniques,
guided meditations, meditations tips, ways of overcoming obstacles, a gratitude journal, and so much more! It will help your overcome the following difficulties:
Lack of Productivity: Many individuals struggle with productivity and time management. This journal incorporates mindfulness exercises and prompts that help declutter the mind, prioritize tasks, and create a harmonious work-life balance, leading to increased productivity and efficiency.
Difficulty Accepting Reality: Accepting reality as it is can be challenging, leading to stress and dissatisfaction. My Meditation Marathon assists individuals in cultivating acceptance, gratitude, and resilience, enabling them to embrace life's challenges and find inner peace.
Inconsistent Meditation Practice: Maintaining a consistent meditation practice can be challenging. This journal offers daily prompts, progress trackers, and personalized reflection sections, empowering individuals to establish and sustain a regular meditation routine, leading to the transformative benefits of meditation.
Lack of Self-Discovery: Many people struggle to understand their true inner selves. My Meditation Marathon provides a framework for self-reflection and introspection, helping individuals embark on a journey of self-discovery and uncover their authentic selves.
Unresolved Past Trauma: Past traumas can have a significant impact on one's well-being. This journal offers a safe space to confront and heal past traumas, providing guided prompts and exercises that support the healing process and promote emotional well-being.
Shallow Spiritual Practice: For those seeking to deepen their spiritual journey, My Meditation Marathon provides a framework to explore and connect with their spiritual side. With guided meditations, intention setting, and reflective prompts, individuals can cultivate a more profound spiritual practice and foster a sense of inner peace.
By addressing these problems, My Meditation Marathon serves as a valuable tool for individuals seeking personal growth, emotional healing, increased productivity, spiritual development, and a deeper connection with themselves and provides a physical space free of influence, free of judgment, unbound by the parameters of social media.
Share
Why it will change your life

✅ Discover your true inner self.
✅ Heal past trauma.
✅ Accept reality as it is.
✅ Be more productive.
✅ Deepen your spiritual practice.
How to use the journal

There are 14 sessions for each of the 3 meditation techniques.

Follow the mind exercises for each session according to the particular meditation technique instruction.

Each session includes:
Motivation - Before every session write your motivation. Ask yourself the question: "Why do I meditate today?"

Meditation experience - After meditating, write down your experience: your emotions, feelings, difficulties, achievements, and mood before and after the session. There is no required information that you have to write. Just follow your heart and record your experience.

Tip - Every meditation session has a unique tip that will help you with obstacles you might encounter during meditation.

Question of the day - Questions are carefully selected for you to better understand yourself and the world around you.

Message for you - A short inspirational message, especially for you.
What's inside

My Meditation Marathon Journal, 220 pages of learning, healing, and discovering that include:

• 3 Meditation techniques
• 45 Meditation sessions
• Gratitude Journal
• Guided Meditations
• Meditation advice and instructions
• Emotions Chart
• Mind exercises
• Inspirational quotes
• Space for recording thoughts
• Traditional Japanese stab binding
• Sacred Vajrayana color scheme
• And so many more details for you to discover!
Specs

• A5 size, 5.8" x 8.3" x 0.8"
• Classic Japanese Stab binding
• Journal Weight: 400 gr
• Cover design inspired by Tibetan temples
• The Endless Knot pattern is the symbol for the inter-twining of wisdom and compassion
• Sacred Vajrayana colors
• Thread-bound lay-flat design, perfect for journaling
• 220 numbered pages
• 100 GSM paper
• Printed and bound in Taiwan 🇹🇼
Shipping

We deliver to anywhere in the USA in 2-8 business days.

We also ship worldwide. Most international packages arrive in 7-10 business days.

We will send an email with your tracking number once your order has shipped.
Return policy

We have a no-risk return policy where purchases made online can be returned, within 30-days of receipt, unused and in their original state.

Please email hi@meditationmarathon.me with your order number and what you would like to return and we will send you instructions on how to complete the return.

Upon confirming the return, the refund will be processed back to the original form of payment.

Please note that we do not currently generate return labels, customers will be responsible for return shipments & costs. We are unable to issue refunds for any customs/import duties, taxes, or additional fees that may apply to your order.
View full details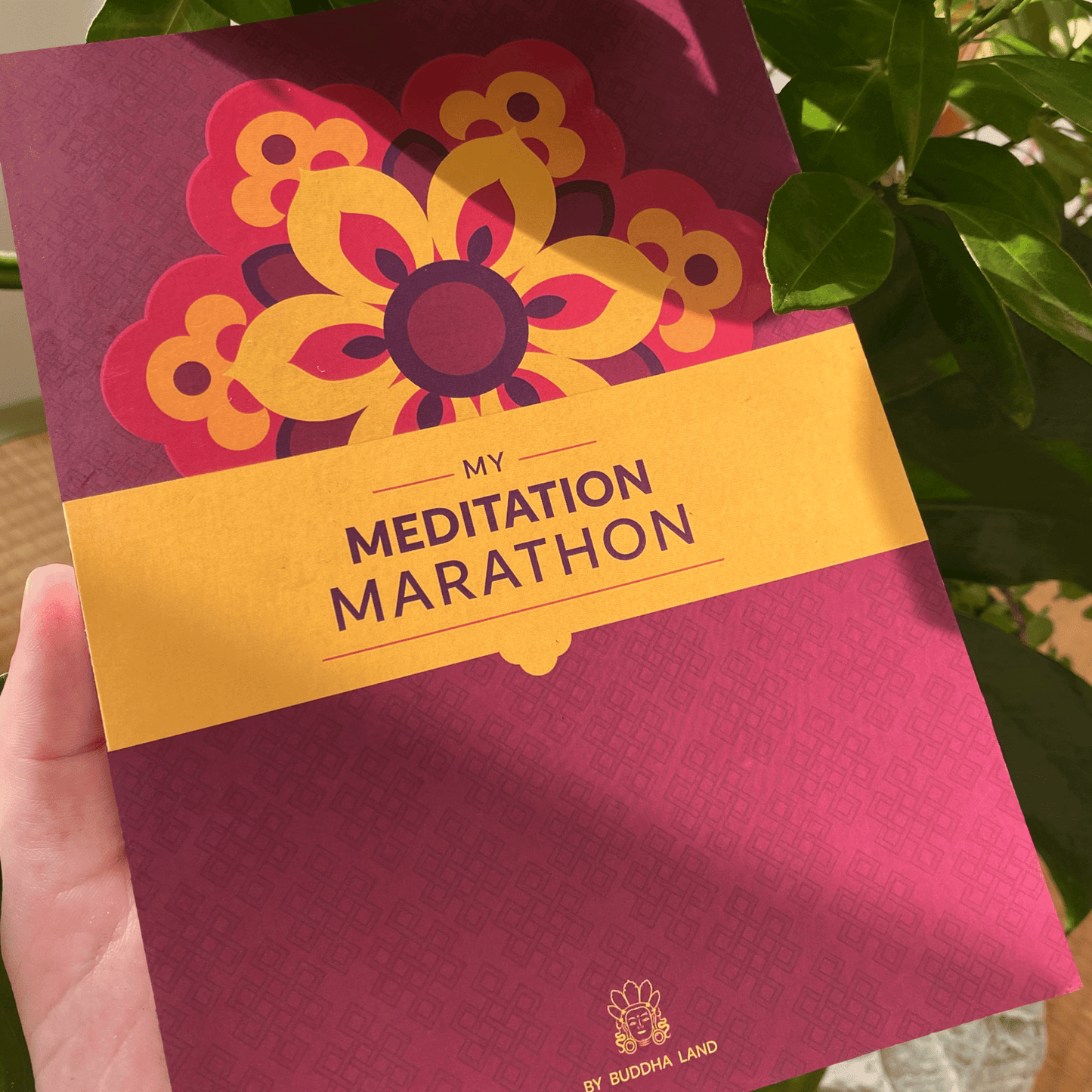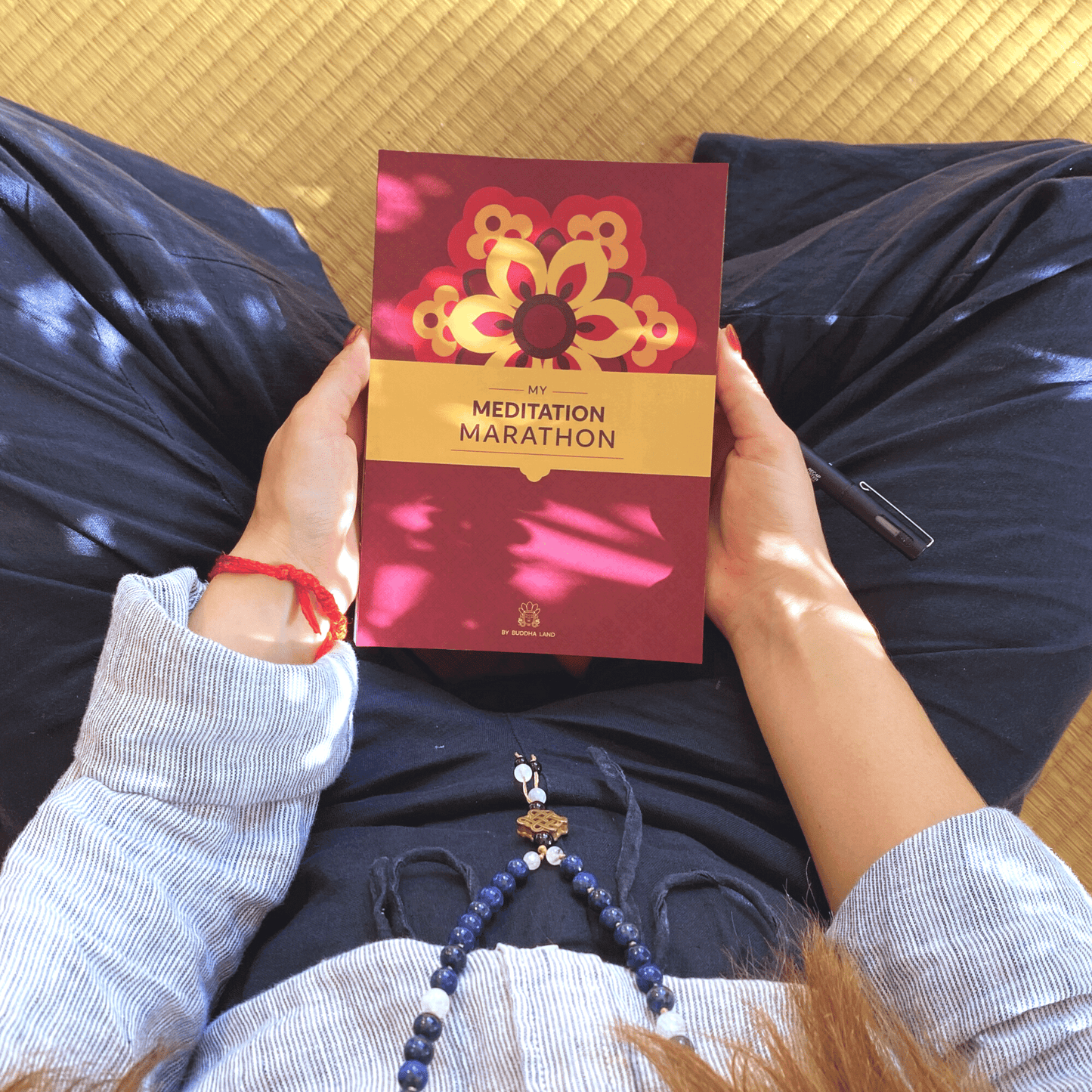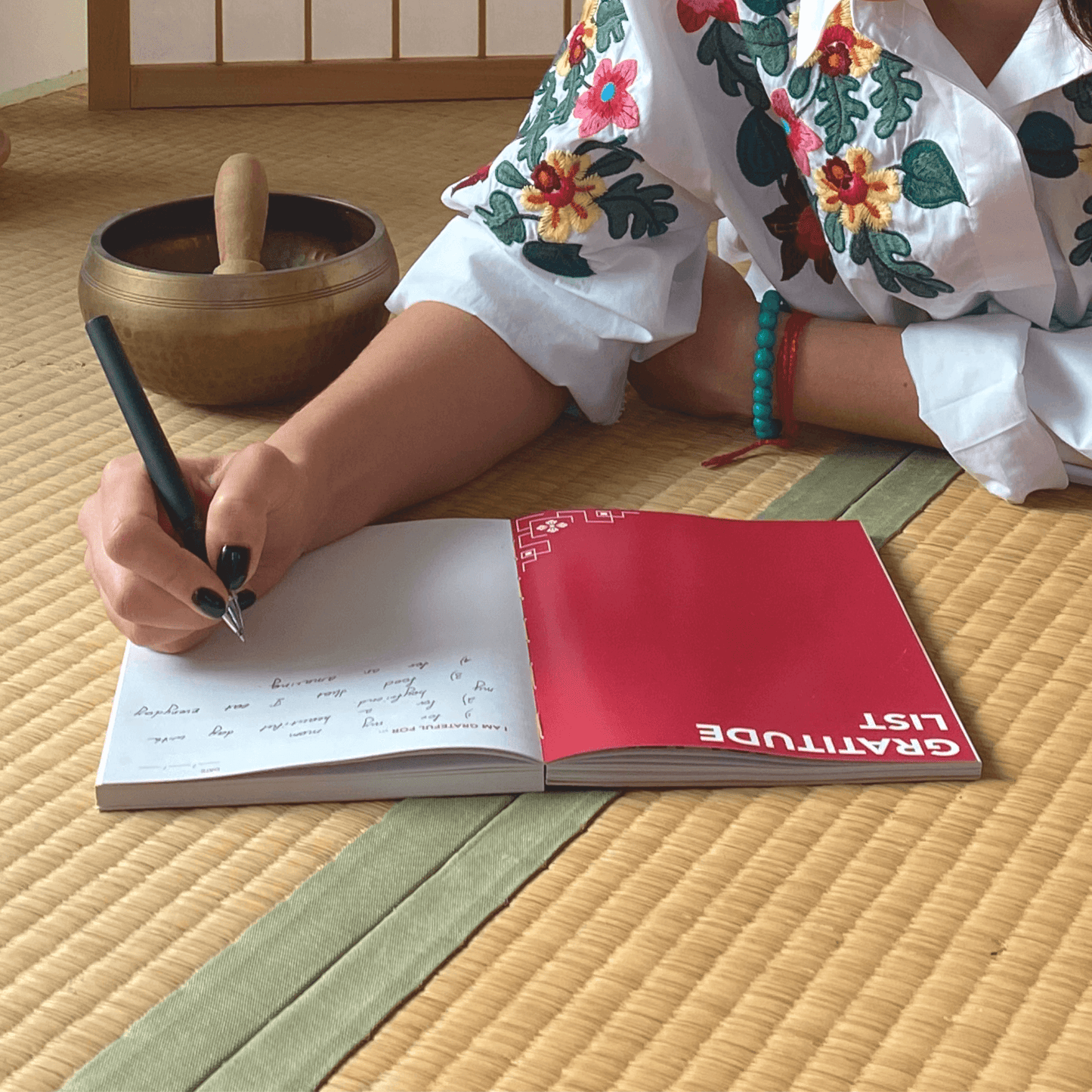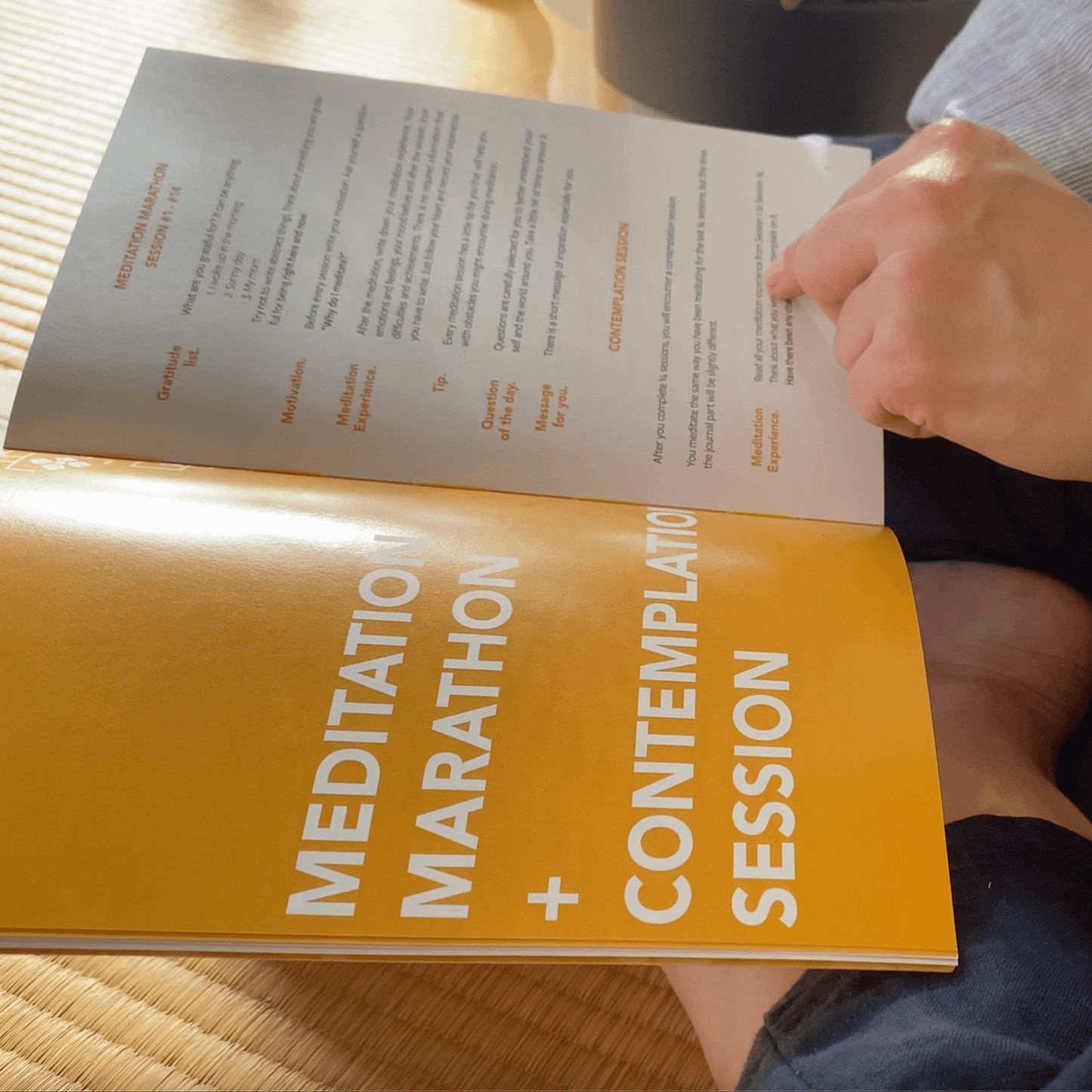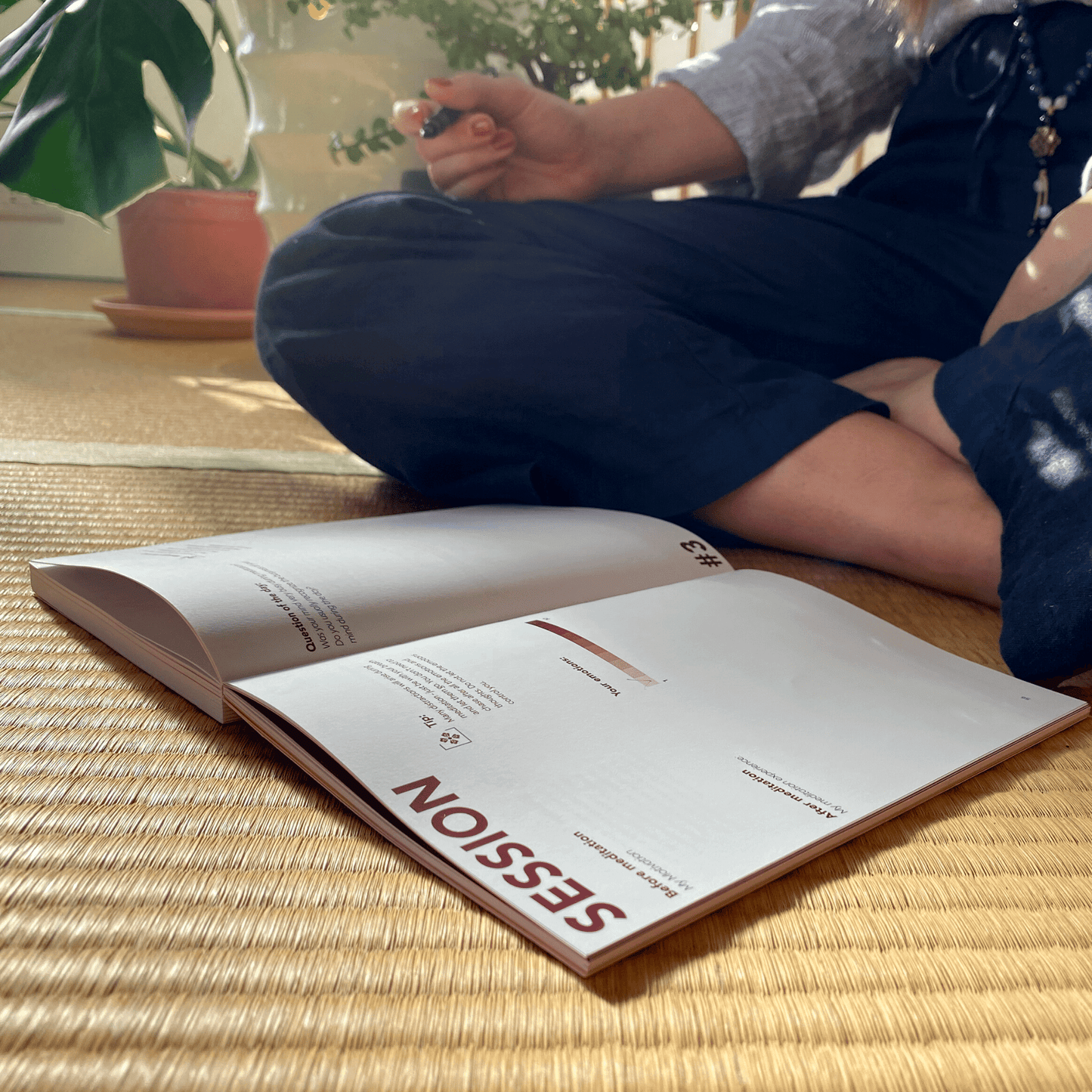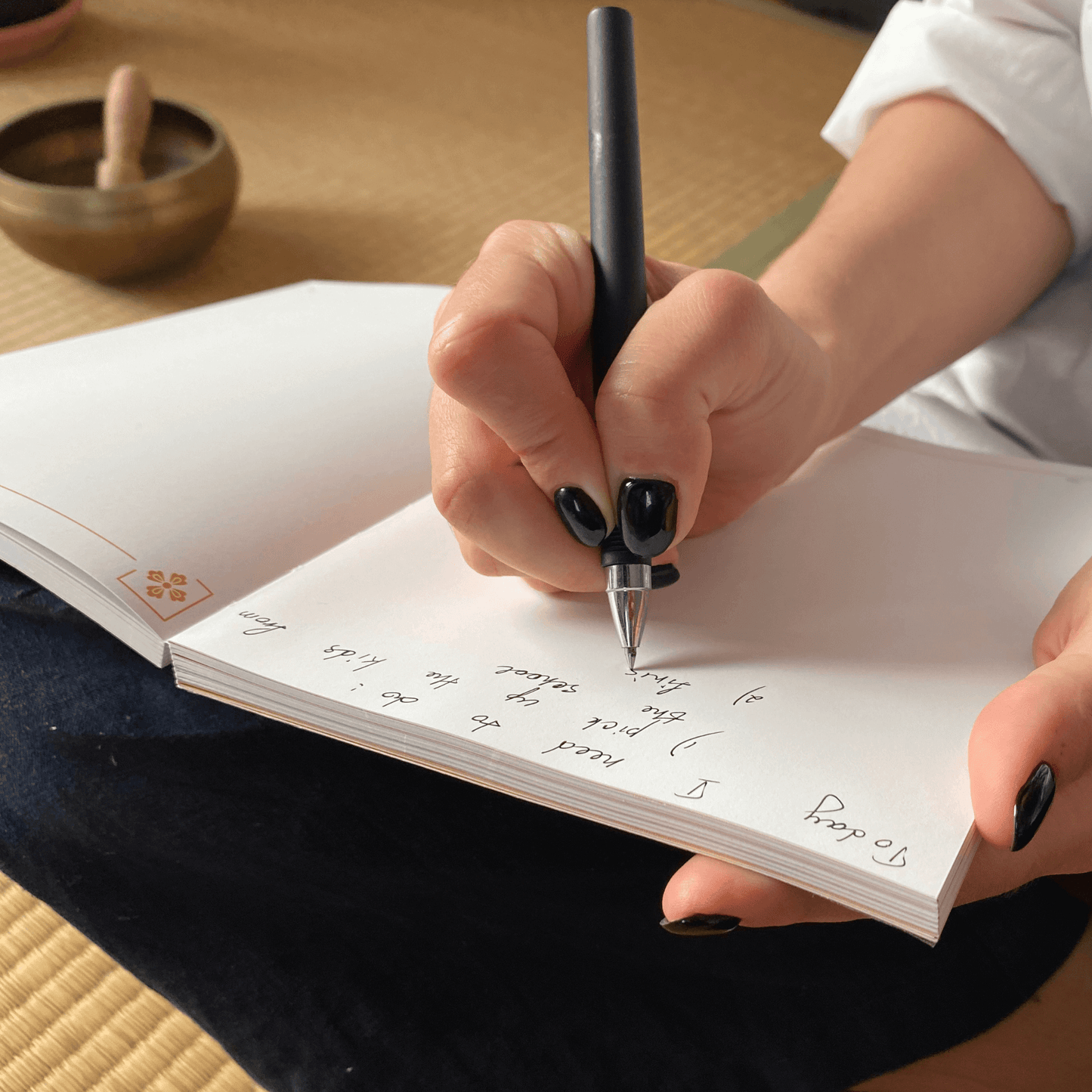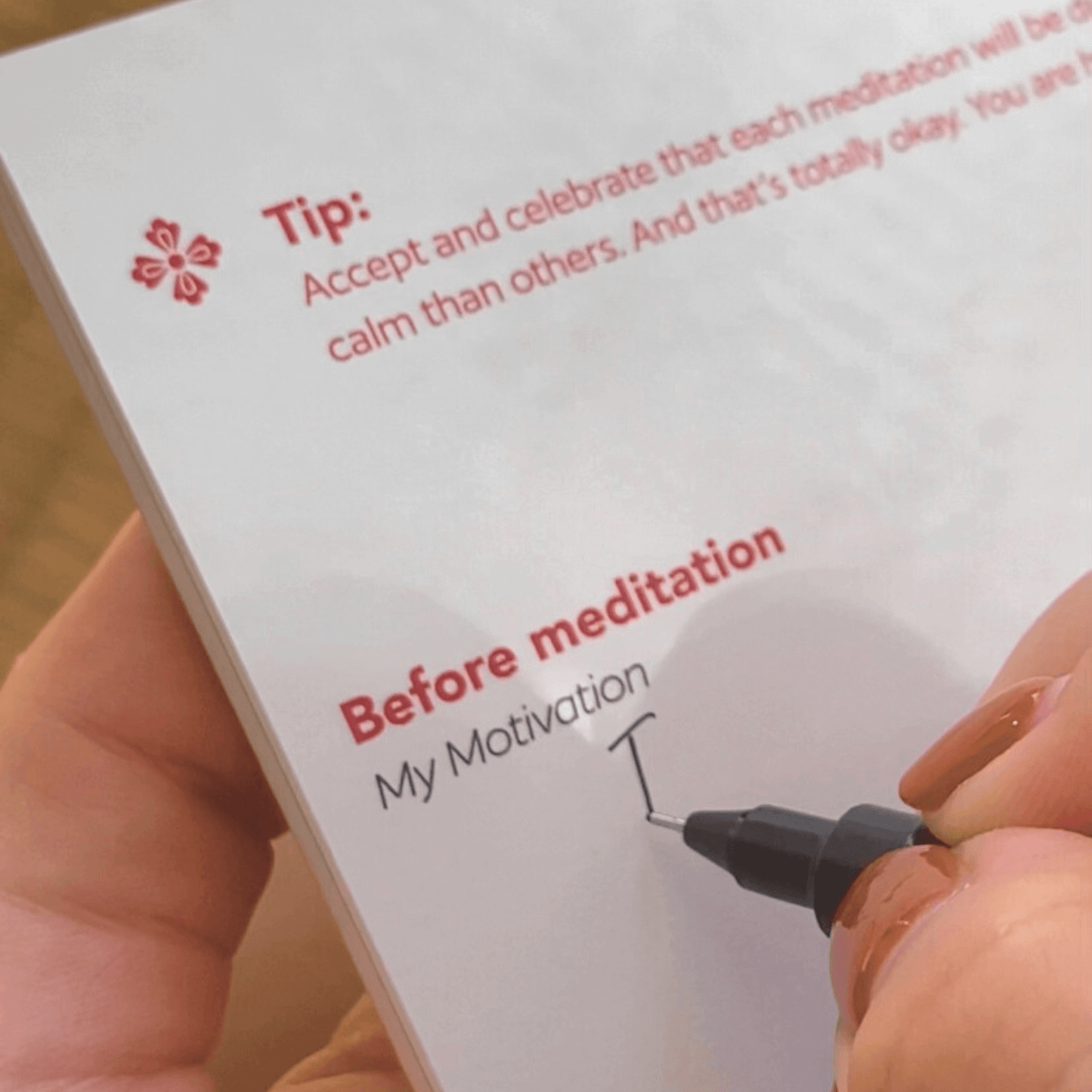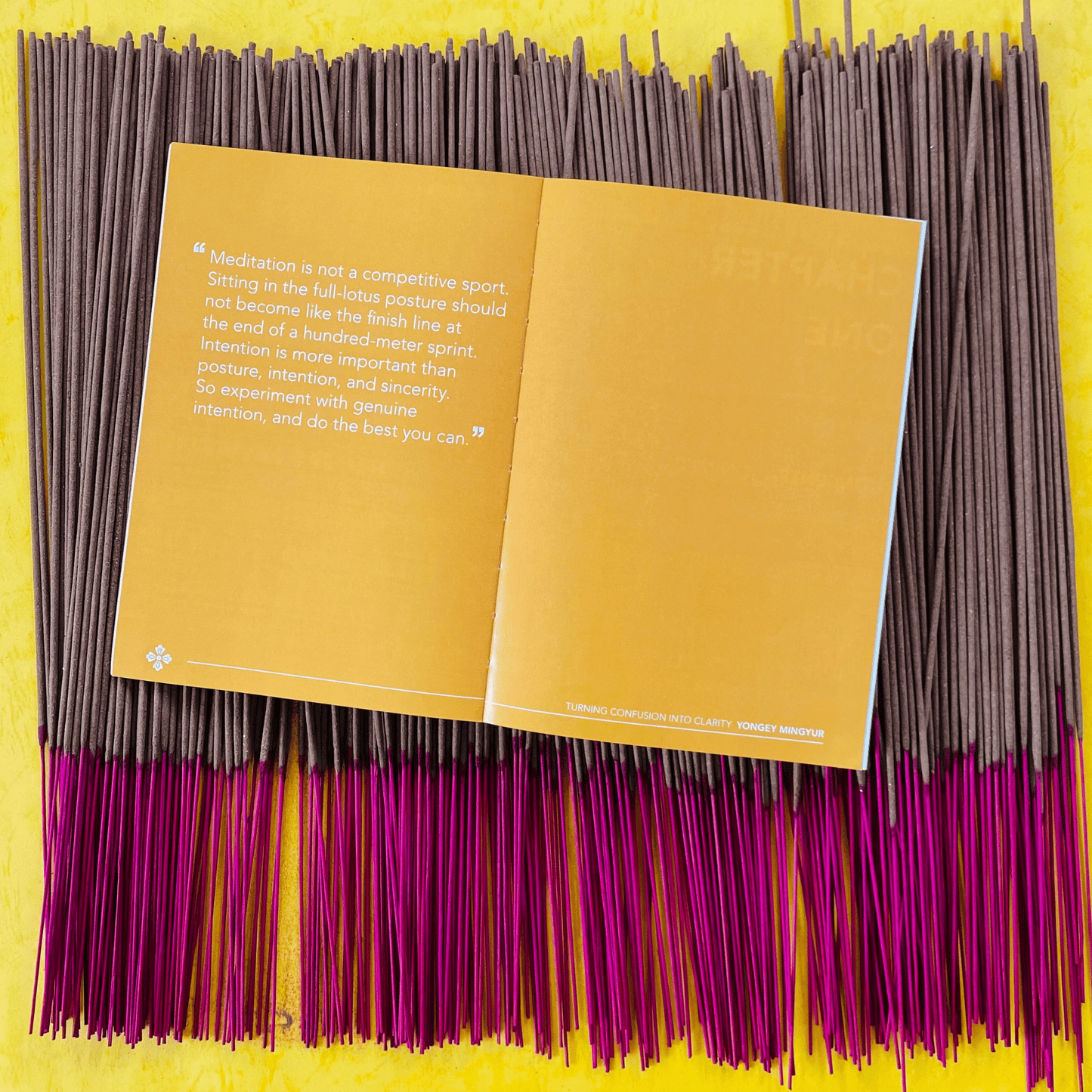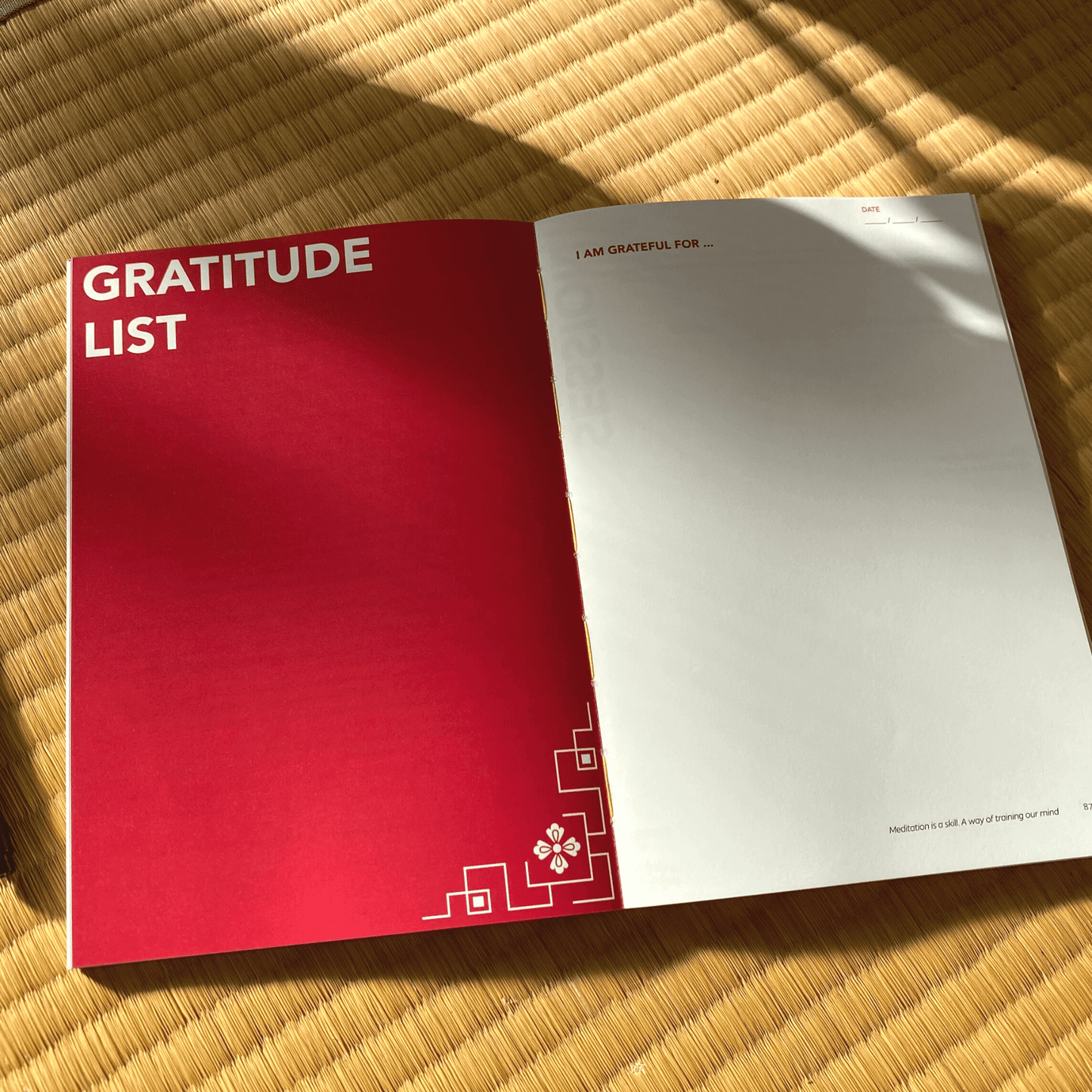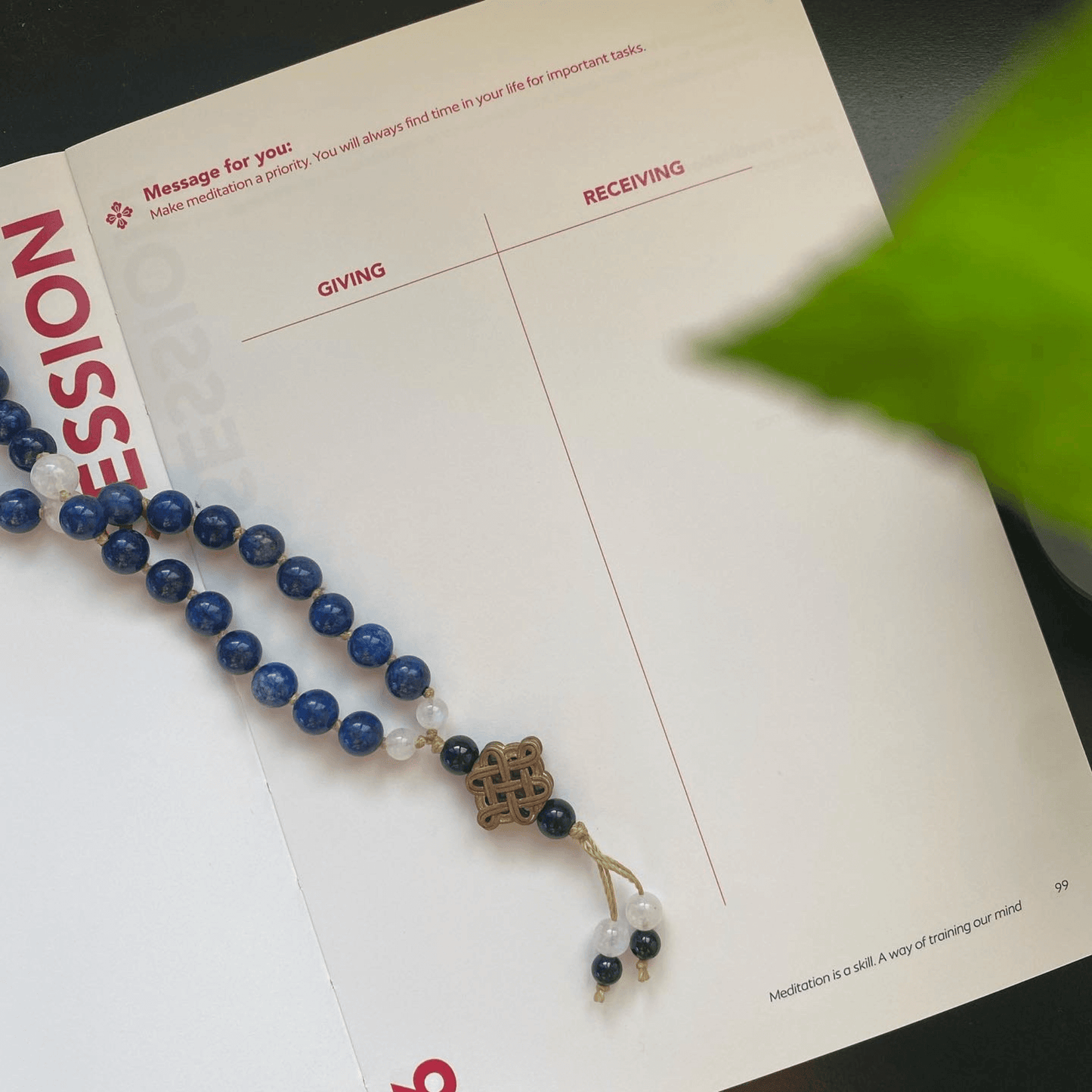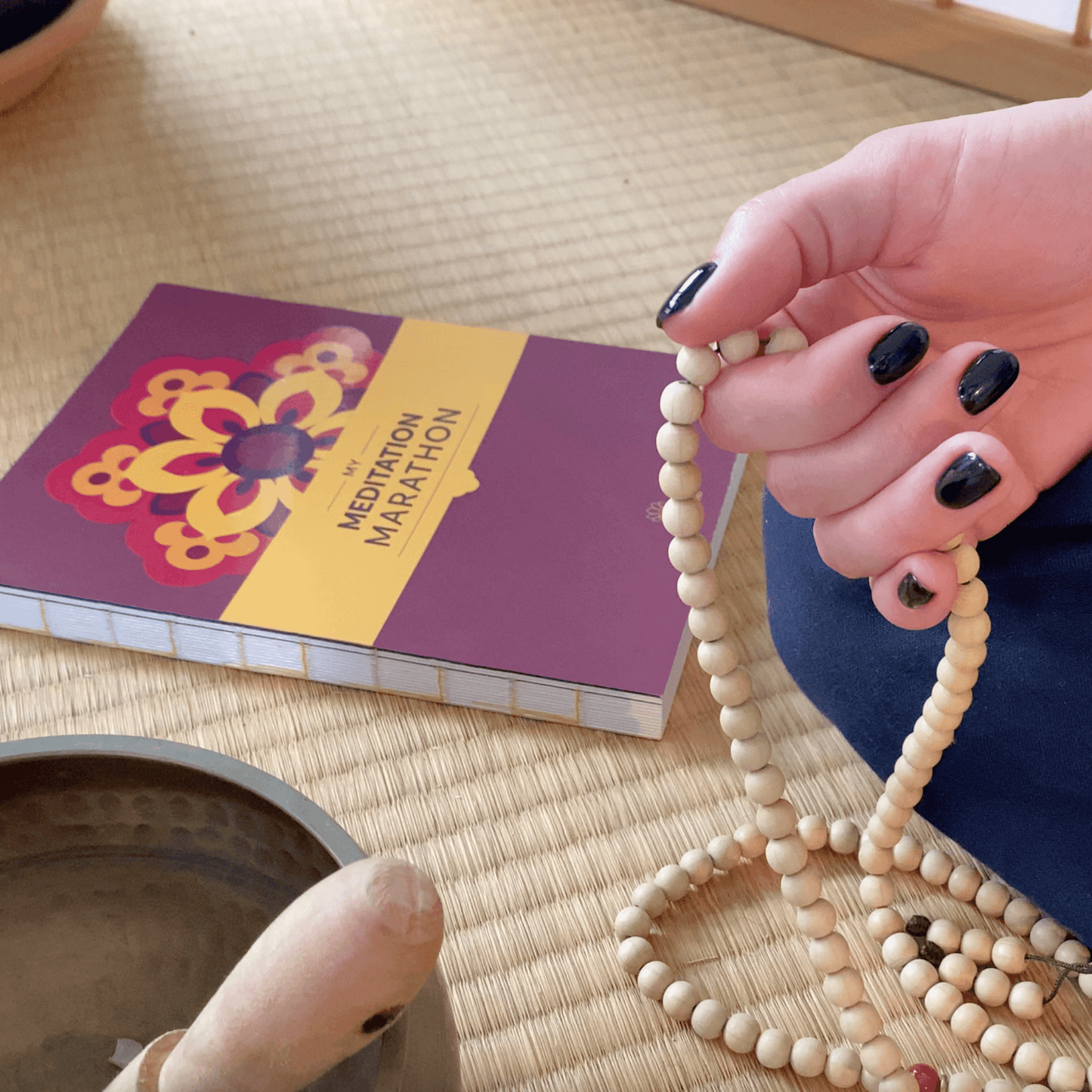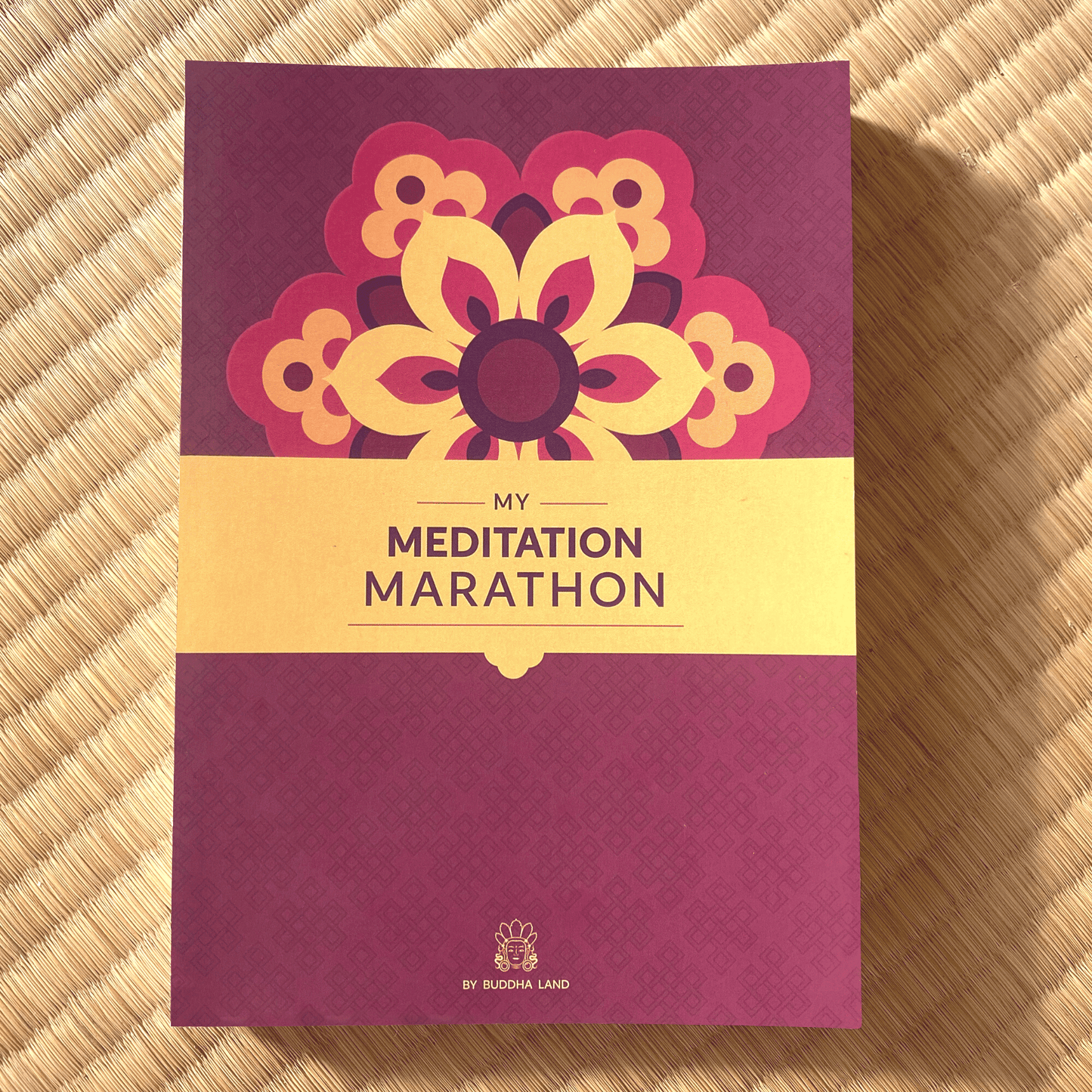 You, and only you have the power to find inner peace and happiness.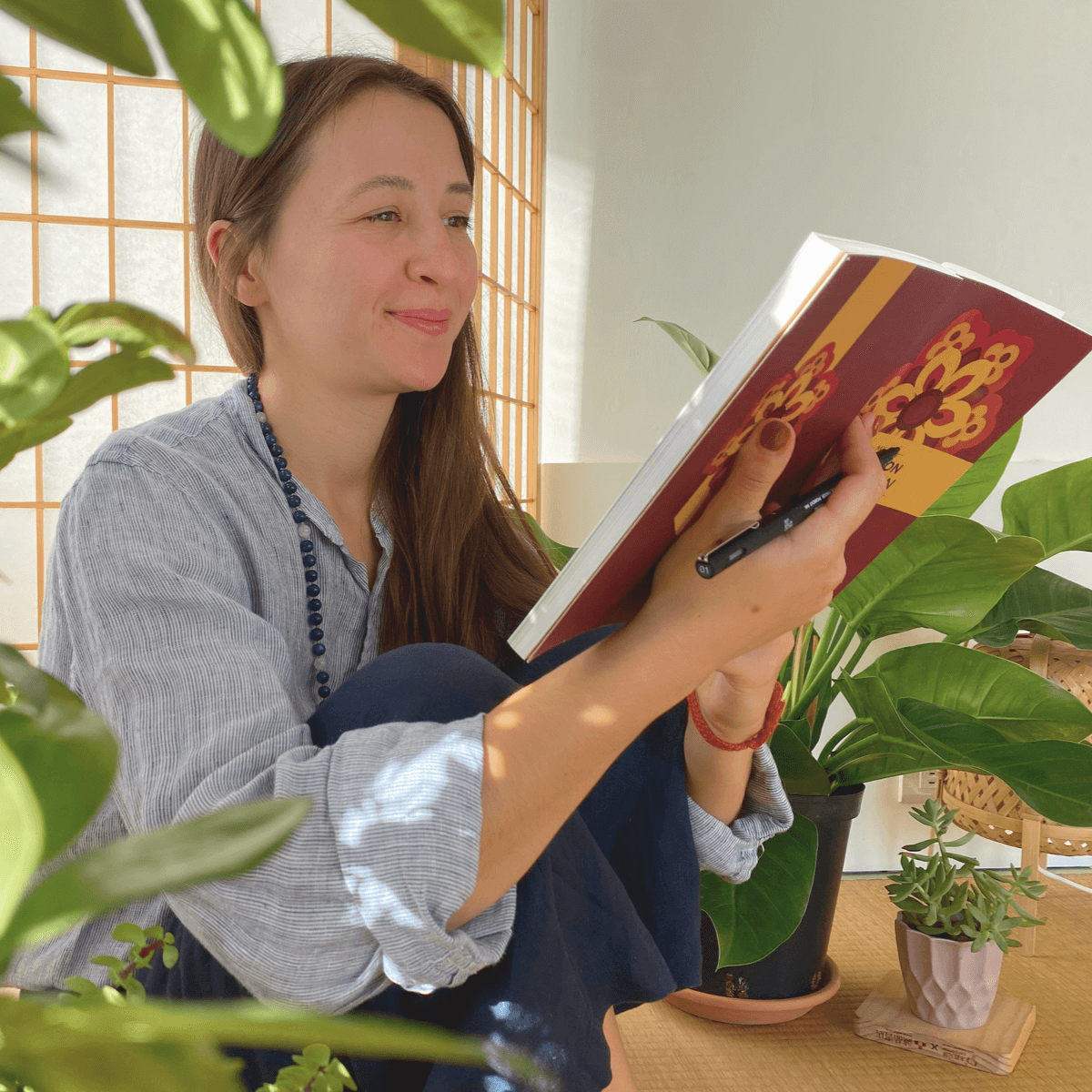 Become your own meditation teacher.
Nobody knows you better than yourself.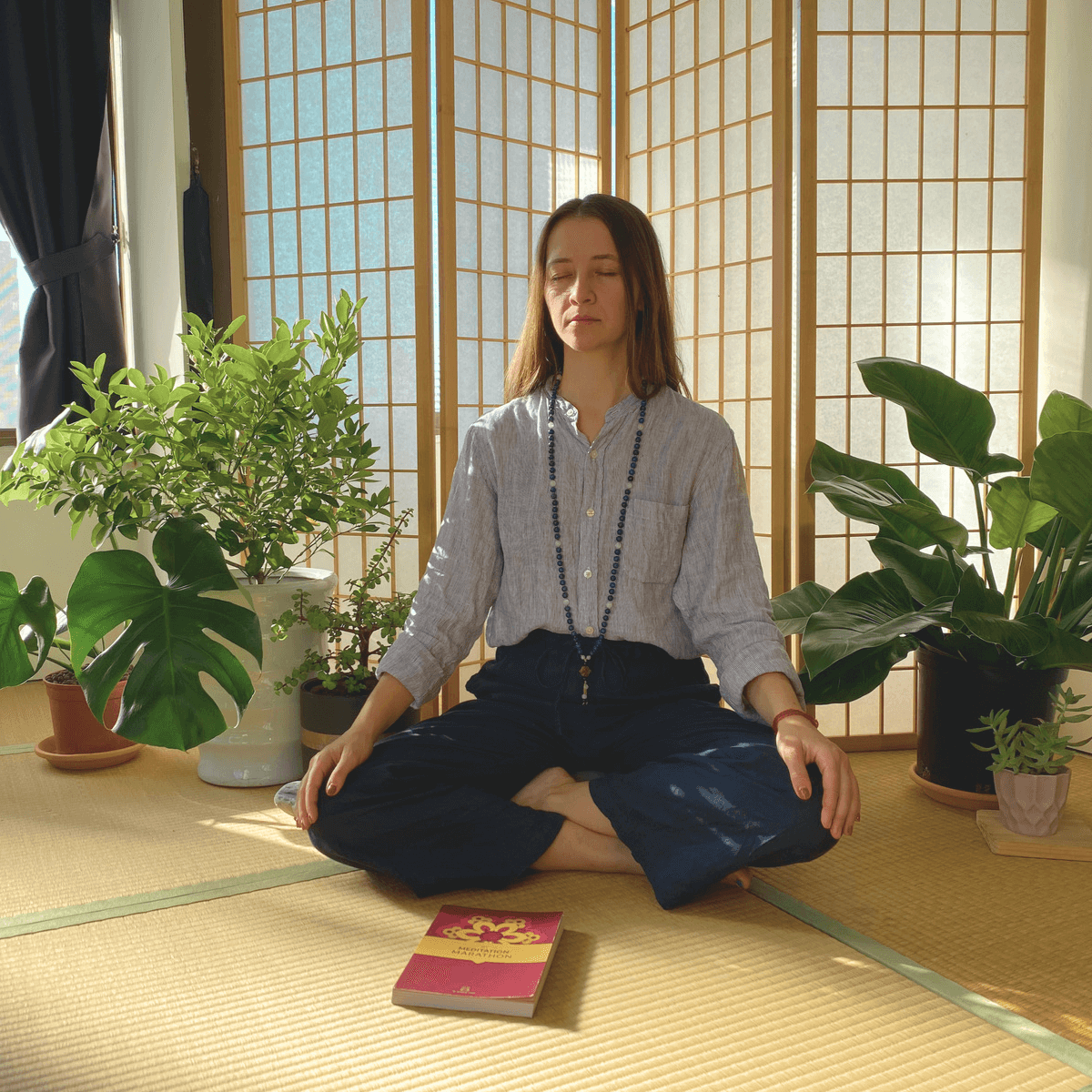 Unplug from your phone, experience you.
With this journal you are not relying on a device to meditate. Less screen time = more time for true inner transformation.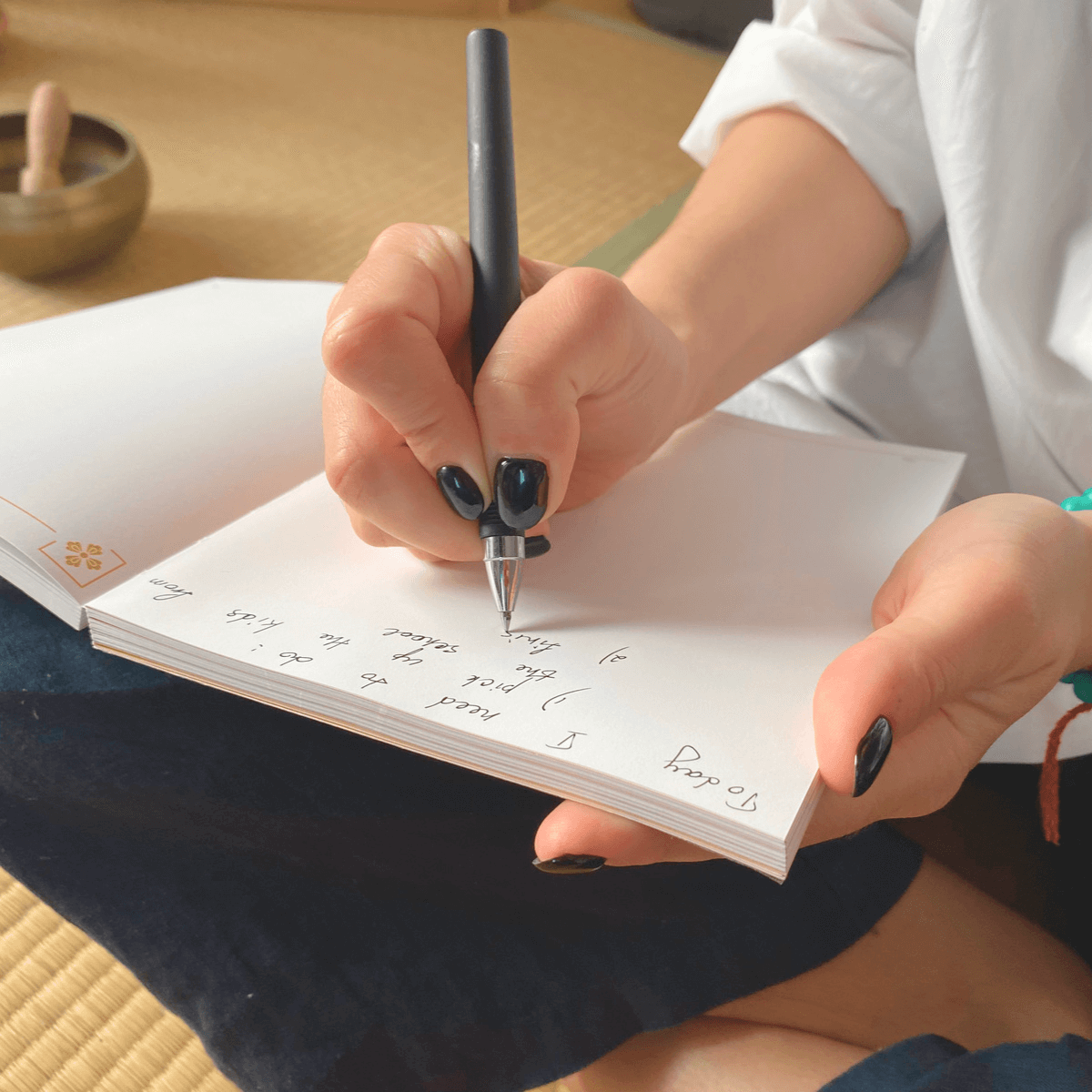 Unlock your mind's true potential.
Explore the depths of your mind and build a consistent meditation practice with our tried and tested workbook.
It's all in the details
Sacred Vajrayana Colors

The cover is inspired by a Tibetan temple's entrance and
The Endless Knot: The inter-twining of wisdom and compassion.

Traditional Japanese Stab Binding

Used by bookmakers for thousands of years throughout Asia, stab-bound journals open and lay completely flat.

Opens wide, lays flat

The stab-bound design opens wide and lays completely flat. No need to crease the journal or lay your phone down on it to keep it open like books with normal bindings.

220 pages of learning, healing, and discovering

We use 100 GSM paper for a silky smooth journaling experience. Printed and bound in Taiwan🧋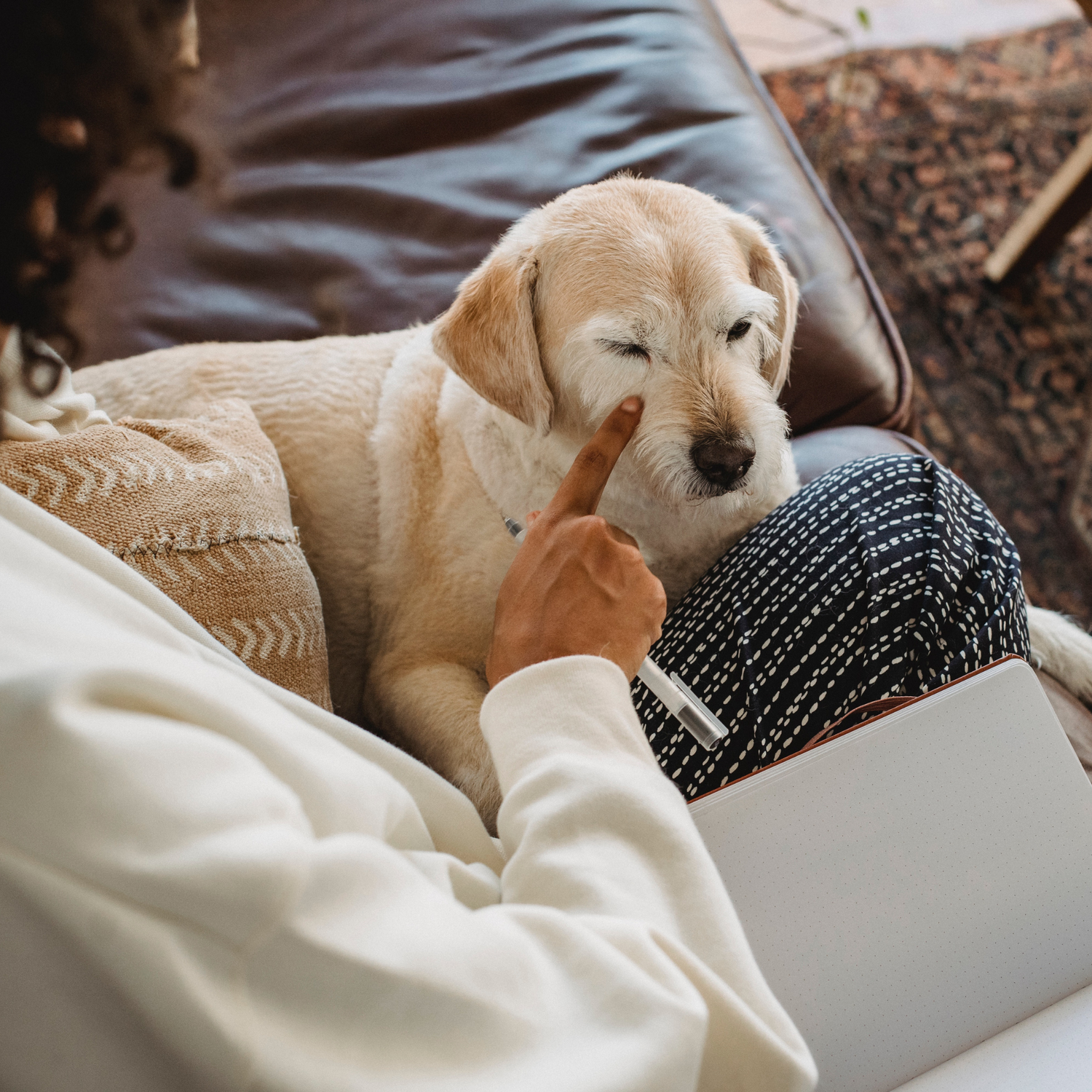 This journal is a guide to your true inner self. 
Recording your daily experiences before and after meditation can be one of the strongest guiding forces that lead you toward healing and growth on your inner journey.
It serves as a tangible path toward optimal mental, spiritual and emotional health. 
FAQs
I have never meditated in my life, will it be suitable for me?

My Meditation Marathon mindfulness journal is suitable for you, whether you're a beginner or an advanced practitioner.

Its proven framework has helped thousands advance their spiritual practice.

It contains detailed instructions and advice that will not only help you learn how to meditate, but also bring an element of consistnacy to your practice.

There are also meditative questions, meditation posture instructions, as well as scannable QR codes for guided meditations.
How long does one journal last?

Journals contain three different meditation techniques, each technique has 14 sessions plus one contemplation session for a total of 45 sessions.

If you're practicing every day, this journal will last you for 45 days.

At the end of the journal, there are empty pages that can be used as a space for thoughts, or continuation of your spiritual practice.
What type of meditation will I learn?

The Three core meditation techniques that are introduced in the journal are selected to help you with different aspects of your life. 

Concentration meditation is beneficial for increasing focus, reducing stress, anxiety, and depression, and building an appreciation of reality as it is.

Loving-kindness meditation cultivates positive karma by expanding your compassion towards yourself and others.

Meditation on emotions helps you to gain a new perspective on stressful situations, focusing on the present, and increasing patience, tolerance, and acceptance.

There are also scannable QR codes with guided meditations for each meditation technique. 
How was the journal developed?

Over the past 2 years, we've held 5 online meditation marathons where thousands of participants meditated with us. Throughout this process, we discovered and analyzed pain points and problems that many people just like you experience during meditation.

Working with Lamas from Dharamshala, Buddhist Nuns from Taiwan, and meditation and mindfulness practitioners from around the world, the Buddha Land team then compiled the solutions to these problems into a unique new guided meditation journal.
What is Buddha Land?

Buddha Land is an independent non-sectarian platform for helping people navigate the profound world of Buddhism. We post educational articles about meditation, Buddhism, and mindfulness daily on our website and Instagram account, as well as organize meditation courses, Q&A sessions, and publish a popular weekly newsletter on Buddhism and meditation.

Learn More about Buddha Land.